Hello Friends!
I guess I took a few pawsonal days! It must have been really comfy in my bed! Bingo Game 2 is officially over and the winner after a long game is...
ROCKY!
Here is his winning Bingo card: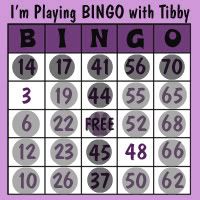 Congrats to Rocky and thanks to everyone for playing Bingo with me! Don't forget to sign up for Game 3!
I also got a lovely new award from my friend
Moose
.
It is an award bestowed on those, who bring a little
'magic'
to their readers via their blogs creativity!
I am so honored that Moose would think of me! I would like to pass this award on to
Dozer and Coop
! Their stories are soo funny and I can always count on them to put a smile on my face!