Hello Friends!
Here are today's Bingo numbers:
15 . . . 65 . . . 24
(some pups have called out BINGO but no one has won yet. Remember that this game you have to get a bone shape in the center of the board to win!)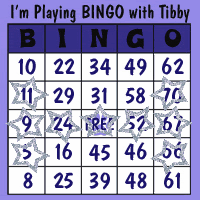 I am so happy that you stopped by to celebrate my 200th post!!!
I can't believe that I have been blogging for almost a whole year!
Thanks so much to everyone that has followed my adventures so far and I hope we have many many more fun things to share in the future!
Now lets see how much you have learned about ME in the last 200 posts!









The Tibby Quiz

1) What year was I adopted by The Owners?



2005


2007


2003


2006



Powered By:
QUIZ
YOUR
FRIENDS
.com
Just take my quiz and you'll get a chance to win some super cool prizes! We will leave the quiz up for 1 week so that everyone gets a chance to play!
(PS: the last question is showing the wrong answer as right but I am sure you can all guess which one is right!)
Don't forget to stop back tomorrow for the Pets of the Week!